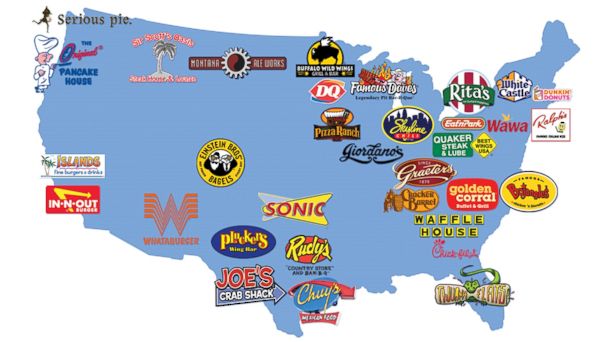 Restaurant stocks are a little risky, since they are subject to food scares, seasonal demand, and recessions but they are fun and colourful, especially if they pay a dividend. It's always fun to see someone eat a burger and have a certain great feeling that they are contributing to your RRSP or profit in your account. The U.S. has a treasure trove of restaurant stocks, some very well known, some regionally known. Whatever the stock, if it pays a dividend, it will get onto my radar.
Making income though dividend investing involves searching for solid companies that have a good chance of increasing the dividend year after year. As the company's sales and profits grow, dividends usually grow also, and the money you get through dividends can be reinvested or used as cash.
With interest rates giving less than 1 percent on GICs and other "safe" investments, investors looking for yield can look at U.S. Restaurant stocks.
Without much fanfare, here are a few of my favourite U.S. Restaurant stocks:
Dine Equity (ticker: DIN). Who doesn't like fluffy pancakes and affordable seafood? Dine Equity known for International House of Pancakes and Applebee's gives a great dividend yield of 5.81% with a low P/E ratio of 12.09. They also are raising their dividend payouts 2 times in the last 3 years.
Dunkin Brands Group (ticker DNKN). If you love the stability of a good coffee and donut company then look no further than Dunkin Donuts. This iconic brand in the U.S. increases their dividend annually and pays a respectable 2.31 percent yield. With a lower yield provides more space for the dividend to be paid for a very long time. The company is adding Franchises even tho they are a very large company. With recent earnings beats and dividend hikes, this company looks to be as strong as ever.
Yum Brand (ticker YUM). Another above average restaurant stock with a dividend yield above the industry average. Yum Brands is known for KFC, Taco Bell, and Pizza Hut. This stock pays a yield of 2.52% which at this level is very sustainable for the near future. With a very strong history of annual dividend hikes, you will sure be enjoying your fried chicken or pizza more than usual.
Darden Restaurants (DRI). Known for family favourites such as Olive Garden and Longhorn Steakhouse. Darden boasts a dividend yield of 2.94% and very strong history of raising dividend payouts, you will be enjoying these dividends with your family meal. Darden has a strong management team that delivers value to shareholders through cost controls and delivering a consistent dining experience. They have diversified their company with a more upper class dining experience by purchasing The Capital Grille.
So there you have some of the more stable dividend U.S. Restaurant stocks out there. Of course as with all advice, please do your own research.
Disclamer : I do not own any of the above stocks mentioned in this article.